Salt core technology used for high pressure die casting
With the development of the manufacturing industry, aluminum die casting parts are increasingly used in many fields, and hollow die casting parts can increase the strength of the structure and reduce the weight. Vacuum die casting is mainly used for automotive parts and can make thin walls. Complex hollow parts can be made using salt cores that are removed by water during die casting.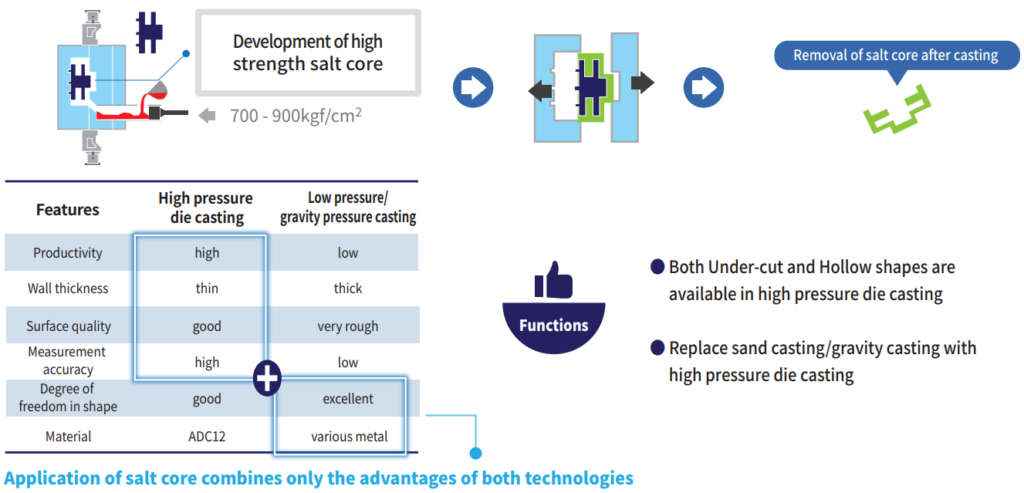 Competitive Cost Reduction
Mass production enabled by short cycle time of high pressure die casting increases productivity
Also reduces weight by 10-20% vs sand casting
Cheaper materials compared to sand casting (AC4C ▶ ADC12)
Products Made by Replacing Sand Core with Salt Core Technology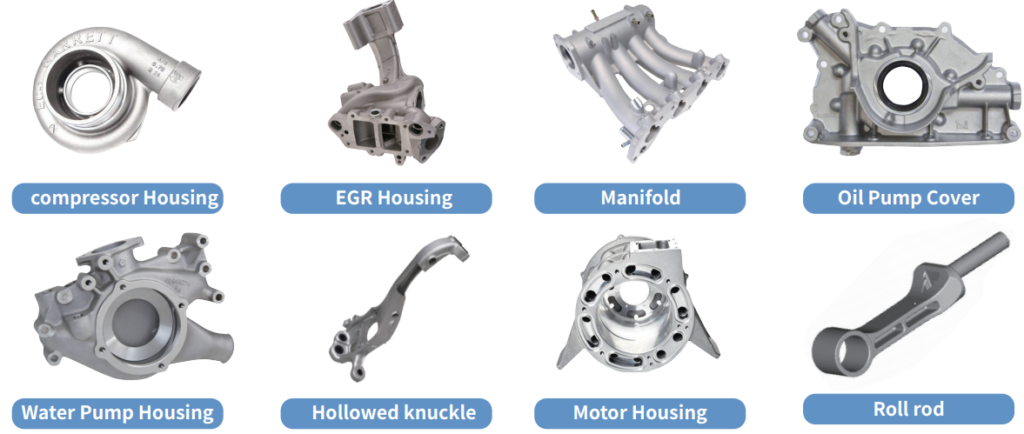 Salt core
Salt core dissolved by water means a core made of salt dissolved in water and can be removed by high pressure water after die casting compared to sand core used for low pressure or sand casting.
The salt core is of high strength, clean cast surface finish, less air bubbles, easy removal, minimal damage to parts and environmentally friendly. You can also recycle salt. Therefore, more and more salt cores will be used in the automotive industry.
In high pressure die casting, the tooling core must be able to withstand the impact of the molten alloy at a temperature of 680 ~ 720 ℃ and a speed of 20 ~ 50m / s. Therefore, salts soluble in water must be of high strength and meet the requirements of high and low pressure die casting. In addition, the yield of the salt core must match with high pressure die casting, and the tensile strength of the salt core must be at least 20 MPa. In addition, it must be well soluble and easy to clean, and must not be responsive to alloying and recycling use.
Considering the yield of high pressure die casting and the molding of the core for sale, the main method of making the salt core is the injection method. During die casting, the solidification time of the salt core is longer than that of the alloy, which adversely affects the production efficiency. In order to provide standards for salt core production and simulation of filling and solidification, it is necessary to establish a salt core evaluation system, and it is useful to find the possibility of cracking risk during die casting.
-Smooth surface quality
-High thermal shock resistance
-Water soluble
-Thermal insulation
-No chemical binders used
-No separate coating material used
-Do not use harmful substances
-Integrated core support structure
-Possible to design complex internal flow channels
-Undercut molding possible
-Surface quality specification available
-Can be combined with other salt cores
-Part integration possible
-Near net shape manufacturing
– Increased productivity

For die casting inquiries, please send an email to sales@castman.co.kr
---
고압 다이캐스팅에 사용되는 솔트코어 기술
제조 산업의 발달로 많은 분야에서 알루미늄 다이캐스팅 부품이 점점 더 많이 사용되고 있으며 중공 다이캐스팅 부품은 구조의 강도를 높이고 무게를 줄일 수 있습니다. 진공 다이캐스팅은 자동차 부품에 주로 사용되며 얇은 벽을 만들 수 있습니다. 복잡한 중공 부품은 다이캐스팅시 물에 의해 제거되는 소금 코어를 사용하여 만들 수 있습니다.
솔트 코어
물에 의해 용해되는 소금 코어는 물에 용해된 소금으로 만든 코어를 의미하며 다이캐스팅후 저압 또는 모래 주조에 사용되는 모래 코어와 비교할 때, 고압 수에 의해 제거할 수 있는 첨단 공법입니다.
솔트코어는 높은 강도, 깨끗한 주물 표면 마무리, 적은 기포, 손쉬운 제거, 부품 손상 최소화 및 환경 친화적입니다. 또한 소금을 재활용 할 수 있습니다. 따라서 점점 더 많이 솔트코어 공법이 복잡한 부품 제조 산업에 사용될 것입니다.
고압 다이캐스팅시 툴링 코어는 680 ~ 720℃의 온도와 20 ~ 50m/s의 속도로 용융된 합금의 충격에 견딜 수 있어야 합니다. 따라서 물에 용해 되는 소금은 고강도여야 하며 고압 및 저압 다이캐스팅 요건을 충족해야 합니다. 또한, 솔트코어의 수율은 고압 다이캐스팅과 일치해야 하며, 솔트 코어의 인장 강도는 20MPa 이상이어야 합니다. 또한 용해가 잘되고 세척이 용이해야 하며 합금 및 재활용 사용에 대한 반응이 없어야 합니다.
고압 다이캐스팅의 수율과 판매 코어의 성형을 고려할 때, 소금 코어를 만드는 주된 방법은 주입 방법입니다. 다이캐스팅 중 솔트코어의 응고 시간은 합금보다 길어 생산 효율에 나쁜 영향을 미칩니다. 솔트코어 제작의 기준과 충진 및 응고 시뮬레이션을 제공하기 위해서는 솔트코어 평가 시스템 구축이 필요하며, 다이캐스팅시 균열 위험 가능성을 찾아 내는데 유용합니다.
솔트 코어 장점
– 부드러운 표면 품질
– 높은 열충격성
– 수용성
– 단열성
– 화학적 바인더 사용안함
– 별도 코팅재 사용안함
– 유해물질 사용안함
– 코어 지지구조 일체화
– 복잡한 내부유로 설계가능
– 언더컷 성형 가능
– 표면 품질 스펙 가능
– 다른 솔트코어 결합가능
– 부품일체화 가능
– Near net shape 제조
– 생산성 향상
다이캐스팅 관련 문의는 sales@castman.co.kr 로 연락 주시기 바랍니다.
Related posts