Computer simulation techniques for die casting processes
Die casting is the go-to manufacturing technology for mass-produced, lightweight components made from metal, predominantly Aluminum and Magnesium alloys. Most of the high pressure die casted parts are manufactured for the automotive industry but consumer electronics are also making use of this technology.
High Pressure Die Casting (HPDC) means that a metal plunger pushes liquid metal into a mold at high speed and high pressure. This process enables mass production of very thin-walled castings with the highest quality.
Produces strong, lightweight parts that require less machining than machined parts
Complex and complex shapes into one piece, no assembly or welding required
Offers a wider range of forms than other metal fabrication technologies
Achieve close tolerances
High Pressure Die Casting (HPDC) means that a metal plunger is pushing liquid metal into a cavity at high speed and pressure. This process allows for the production of very thin-walled castings with repeatable product quality. Up until recently, the HPDC process had a reputation of producing low quality parts/components with weak structural properties, but better process control and new alloys have changed this perception. These changes permit using heat treatable parts, thus allowing high pressure die casted parts to be used for structural components, replacing metal sheet or welding construction. One of the most prominent examples of this trend is the shock tower in a car. Another example for high pressure die casted parts is a gearbox housing of a car.
CASTMAN utilizes STIC&D's FLOW-3D CAST analysis technology to provide a complete analysis solution for a variety of metal casting processes. Simulations provide detailed insight into the injection and solidification of cast parts by tracking defects including various forms of porosity, surface oxides and air bubbles, thermal stresses and deformations. FLOW-3D CAST allows you to analyze the mold. And other properties such as heat and gas treatment can be removed from the core.
The most common defects in die cast parts are shrinkage, porosity, malfunction and gas content. Intermediate and defect processes are the most difficult to control, and even modern simulation techniques struggle to find the right solution.
Combining an intuitive and convenient user interface, FLOW-3D CAST can accurately predict filling and coagulation defects through successful projects. Sand casting, mold casting and high pressure die casting are best suited to your process requirements.
Optimized simulations help reduce development time, shorten time to market and increase production in the shop floor. Product development with FLOW-3D CAST helps to significantly reduce staff design and development costs when deploying new casting processes or alloys.
In recent years, computers have started to get rid of the difficulty of waiting too long for calculations as in the past, and performance has improved. More importantly, you should minimize the time it takes to set up these types of problems. Rather than setting up the simulation manually, engineers must spend time interpreting the results and making decisions to improve the process.
As the demand for high pressure die casting parts with thin wall and high surface ratio continues to increase, the stability of the process and the development of high quality products are placing a great burden. With CFD software, die cast parts are becoming increasingly popular in a variety of industries where heat treatment is required.
다이캐스팅 공정을 위한 새로운 시뮬레이션 기술
다이캐스팅은 주로 알루미늄 및 마그네슘 합금을 사용하여 금속으로 만든 경량 부품을 대량으로 생산하는 제조 기술입니다. 대부분의 고압 다이캐스팅 부품은 자동차 산업을 위해 제조되지만 가전 제품도 이 기술을 사용하고 있습니다.
HPDC (High Pressure Die Casting)는 금속 플런저가 액체 금속을 고속 및 고압으로 금형 속으로 밀어 넣는 것을 의미합니다. 이 공정을 통해 벽이 매우 얇은 주물을 최상의 품질로 대량 생산이 가능합니다.
가공 부품보다 가공이 덜 필요한 강력하고 가벼운 부품 생산
복잡하고 복잡한 모양을 하나의 조각으로 만들어 조립이나 용접이 필요하지 않음
다른 금속 제조 기술보다 더 광범위한 형태를 제공
정밀한 공차 달성
최근까지 HPDC 공정은 구조적 특성이 약한 저품질 부품/부품을 생산하는 것으로 명성이 높았지만 공정 제어가 개선되고 새로운 합금이 이러한 인식을 바꾸었습니다. 이러한 변경으로 인해 열처리 가능한 부품을 사용할 수 있으므로 고압 다이캐스팅 부품을 구조 부품에 사용하여 금속 시트 또는 용접 구조를 대체 할 수 있습니다.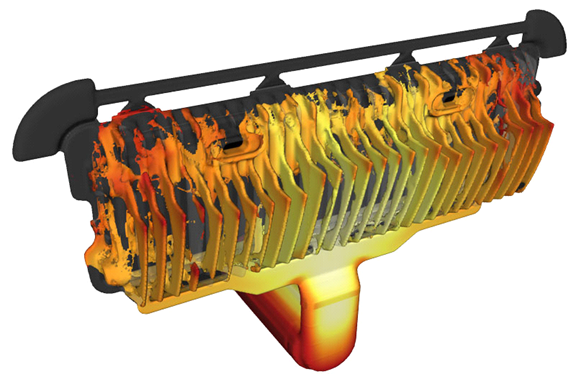 캐스트맨에서는 STI C&D의 FLOW-3D CAST 해석 기술을 이용하여 광범위한 금속 주조 공정을 위한 완벽한 해석 솔루션을 제공합니다. 시뮬레이션을 통해 다양한 종류의 다공성, 표면 산화물, 공기 및 기포, 열 응력 및 변형 등과 같은 다양한 결함을 추적하면서, 주조 부품의 충진 및 응고에 대한 상세한 통찰력을 제공합니다. 금형을 분석하거나 FLOW-3D CAST로 코어의 가스 처리 같은 열 특성 및 기타 특성을 제거 할 수 있습니다.
다이캐스팅 부품의 가장 일반적인 결함은 수축, 다공성, 오작동, 가스 함유입니다. 이 중 가스 함유물과 잘못된 프로세스는 제어하기가 가장 어렵고 현대 시뮬레이션 기술에서도 적절한 해결 방법을 찾는 데 어려움을 겪습니다.
직관적이고 편의성 높은 사용자 인터페이스를 결합한 FLOW-3D CAST는 성공적인 프로젝트를 통해 충진 및 응고 결함에 대한 정확한 예측을 제공합니다. 공정 요구 사항에 가장 적합한 샌드 캐스팅, 금형 주조 및 고압 다이 캐스팅을 사용할 수 있습니다.
최적화된 시뮬레이션을 통한 설계는 생산 현장에서의 개발 시간이 단축되고 출시 시간이 단축되며 생산량이 늘어나게 됩니다. FLOW-3D CAST를 활용한 제품 개발은 담당자가 새로운 주조 공정 또는 합금을 배치 할 때 설계 및 개발 비용을 절감하는데 큰 도움을 줍니다.
최근에는 컴퓨터의 성능이 비약적으로 발전하여 과거처럼 컴퓨팅 결과를 너무 오래 기다려야 하는 어려움을 없애기 시작했습니다. 더 중요한 것은 이러한 유형의 문제를 설정하는 데 소요되는 시간을 최소화해야 한다는 것입니다. 엔지니어는 시뮬레이션을 수동으로 설정하는 대신 결과를 해석하고 프로세스를 개선하기 위한 결정을 내리는 데 시간을 투자해야 합니다.
벽이 더 얇고 표면 대비 부피 비율이 더 큰 고압 다이캐스팅 부품에 대한 수요가 계속 증가함에 따라 공정의 안정성과 좋은 품질의 제품 개발은 큰 부담이 되었습니다. CFD 소프트웨어를 활용하여 다이캐스팅 부품이 열처리가 필요한 다양한 산업에서 더 많이 사용될 것입니다.
Related posts