Product Design Technology for Die Casting
The die-casting process is a very good way to manufacture large amounts of non-ferrous metal parts. This manufacturing process produces parts by injecting molten metal into the die at high pressure and high speed. This process makes very complex parts cost-effective and effective. This process can create parts that vary greatly in size and weight. You can also choose a variety of alloys depending on the purpose of the product and the working environment.
Designing products for die-casting can require a variety of skills. This is especially true when designing a housing with good shapes and mechanical requirements; thin wall enclosures can be particularly challenging and often require rib and boss inside to increase strength.
Other external and internal functions, such as gradient angles, are required to easily eject parts after the die casting process. You can also use the sliding core of the die to frequently see enclosures with connectors and buttons on the side of casting these features on the part.
The design of die cast parts can have a significant impact on manufacturing costs. However, if you refine your design and optimize it for mass production, the results can be very significant.
Production Capabilities
CASTMAN has the technology to make high-quality die cast parts affordable and fast.
Contact our sales team to learn more about the powerful production capability that drives the CASTMAN products and find out if it can be used to solve your particular problem.
CASTMAN's Technical Keyword
Sand casting

Permanent mold casting

Aluminum casting

Die casting
Copper(Cu) die casting

Copper(Cu) casting

Copper(Cu) machining parts

Heat sink

Bus bar

Connecter

copper(Cu) rotor

salt core

under-cut die casting
The die casting process uses high pressure and high speed to inject molten metal into the die to create parts. At the end of the solidification process, two parts of the die are opened and the part is ejected from the moving surface of the platen. It is usually important that there is no undercut area in the direction of the die opening.
This is why die cast components should be oriented before tooling or die fabrication to ensure that these areas are free from undercuts. However, as die cast components become increasingly complex, many features are added to the edges of the components to incorporate additional features.
These features are very common with undercuts, so sliding cores are added to the tooling design. The sliding core slides into place during the casting process, creating an undercut feature on the die cast part and sliding outward for the draining process.
It is important to note that there should be no undercuts in the direction of the sliding core.
While these undercut products are difficult to compete in terms of production and cost, Castman's Salt Core technology can easily address these challenges.
언더컷 형상 제품
다이캐스팅 공정은 고압 및 고속을 사용하여 용융 금속을 다이에 주입하여 부품을 생성합니다. 응고 과정이 끝나면 다이의 두 부분이 열리고 부품이 platen의 이동면에서 배출됩니다.
일반적으로 다이의 개방 방향으로 언더컷 영역이 없는 것이 중요합니다. 이것이 이러한 영역에 언더컷이 없는지 확인하기 위해 툴링 또는 다이를 제작하기 전에 다이 캐스트 구성 요소의 방향을 결정해야 하는 이유입니다.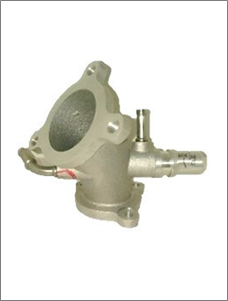 그러나 다이 캐스트 구성 요소가 점점 더 복잡 해짐에 따라 추가 기능을 통합하기 위해 구성 요소의 가장자리에 많은 기능이 추가됩니다. 이러한 기능에는 언더컷이 있는 것이 매우 일반적이므로 슬라이딩 코어가 툴링 설계에 추가됩니다. 슬라이딩 코어는 주조 공정 중에 제자리로 미끄러져 다이 캐스트 부품에 언더컷 형상을 생성하고 배출 공정을 위해 밖으로 미끄러집니다. 슬라이딩 코어의 방향에도 언더컷이 없어야 한다는 점에 주의하는 것이 중요합니다.
이와 같이 언더컷 형상의 제품은 생산과 비용 측면에서 경쟁력을 갖기 어렵지만 캐스트맨의 솔트코어 기술을 이러한 문제를 쉽게 해결할 수 있습니다.
다이캐스팅 공정 특징
다이캐스팅 공정은 대량의 비철금속 부품을 제조하는 매우 뛰어난 방법입니다. 이 제조 공정은 용융 금속을 다이에 고압 및 고속으로 주입하여 부품을 생성합니다. 이 프로세스를 통해 매우 복잡한 부품을 경제적이고 효과적으로 만들 수 있습니다. 이 프로세스는 크기와 무게가 크게 다른 부품을 만들 수 있습니다. 제품의 용도와 작업 환경에 따라 다양한 합금을 선택할 수도 있습니다.
다이캐스팅용 제품을 설계하는 것은 다양한 기술이 필요할 수 있습니다. 특히 좋은 모양과 기계적 요구 사항이 있는 하우징을 설계 할 때 더욱 그렇습니다. 얇은 벽 인클로저는 특히 어려울 수 있으며 강도를 높이기 위해 내부에 리브와 보스가 필요한 경우가 많습니다. 다이캐스팅 공정 후 부품을 쉽게 꺼내려면 구배 각도와 같은 다른 외부 및 내부 기능이 필요합니다.
또한 다이의 슬라이딩 코어를 사용하여 부품에 이러한 기능을 캐스팅하는 측면에 커넥터와 버튼이 있는 인클로저를 자주 볼 수 있습니다.
다이 캐스트 부품의 설계는 제조 비용에 큰 영향을 미칠 수 있습니다. 그러나 디자인을 다듬고 대량 생산에 최적화했다면 그 결과는 매우 큰 성과로 이어질 수 있습니다.
캐스트맨은 뛰어난 기술력을 바탕으로 고품질의 다이캐스트 부품을 저렴하고 빠른 속도로 제조 할 수 있습니다.